The iconic MX companies – leaders in their respective fields – team up to further their unmatched race success and heritage for the '15 competition season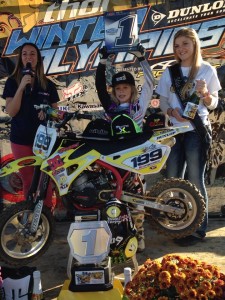 HILLSDALE, Mich. (Jan. 21, 2015) – Officials with American-made Cobra Moto mini cycles announced that Dunlop® motorcycle tires will be sole supplier to Cobra Moto's Factory and Elite teams for the 2015 competition season.
Used on all of Cobra Moto's product, the Dunlop brand is synonymous with success on the motocross track, aligning well with Cobra's dominance of the mini bike classes at amateur national and global MX contests around the globe.
"We can't say enough about Dunlop's product and how well it works with the Cobra Moto line of competition mini cycles," said Sean Hilbert, President of Cobra Moto. "Every mini cycle that leaves the Cobra Moto factory here in Michigan does so with a set of Dunlops. So right out of the gate our racers have an advantage over the rest of the field knowing that when they put the CX's power to the ground, the industry-leading Dunlops are able to help manage that power and parlay it into pure speed and control around the track."
Dunlop Geomax MX52 tires are included on Cobra Moto's national championship line of CX50JR, CX50SR and CX65 competition bikes.  The Geomax MX52 rear tires feature Progressive Cornering Block Technology (PCBT) which incorporates a new block-within-a-block configuration on the two flanks of the tire—a design proven to deliver more progressive cornering action and aid in slide control.
"We're pumped to continue our long relationship with Cobra Moto, and look forward to using what we learn on the track with Cobra's engineers to improve our already unparalleled championship record," said Rob Fox, Amateur Motocross Support Manager for Dunlop. "Cobra Moto makes fast mini bikes and Dunlop takes great pride in helping young racers control that speed and deliver championship results back to the Cobra Moto and Dunlop factories."
About Cobra Moto
Cobra Moto, founded in 1993, produces the most successful line of competition mini cycles in the United States with more than 300 national titles in the last decade. Based out of Hillsdale, Mich., Cobra Moto's mission is to build premium products for the serious racer. For more information on Cobra products, please visit our website at www.cobramoto.com and like us on Cobra Nation on Facebook.
About Dunlop®
Dunlop is the largest supplier of original equipment and replacement motorcycle tires in the U.S. and the only manufacturer of motorcycle tires in North America. With North American operations located in Buffalo, NY, Dunlop has been making and selling high-quality tires in the U.S. since 1923. For more information, visit www.dunlopmotorcycle.com.