Casey Cochran heads up Cobra's national competition team that also includes top 65cc racers Reed Cooper & Parker Ross, along with No. 1 & 2 from the 2014 Loretta Lynn's 50JR podium!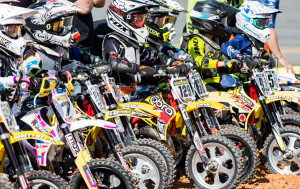 HILLSDALE, Mich., (April 15, 2015) – Another class of upcoming amateur motocross national minicycles champions and likely numerous future top pro factory MX/SX racers will be running the iconic American-made Cobra Moto competition minicycles for 2015 as the company is pleased to announce its new factory team program.
Leading the charge on Cobra Moto's unsurpassed product line of 50cc JR & SR bikes and the former national champion 65cc division CX65 are returning stars Casey Cochran (Tennessee), the 2013 Loretta's 50cc JR class champ, longtime Cobra Moto-backed factory racer Reed Cooper (New York), along with California's Parker Ross.
And making the move up to the CX50SR class is the No. 1 2014 Loretta's 50cc Jr. class, Cobra Moto's Kace Evans (Texas) – last summer's Loretta's Jr. champ – and Tennessee's Mason Dixon, who placed 2nd behind Evans. Kace and Mason, both seven-year-olds in this year's 7-8 51cc Senior class, led Cobra Moto's CX50 JR program in 2014 where Cobra Kids took nine of the top ten class spots (1-9) and 40 out of 42 overall spots at Loretta's!
"We're a young teams this year, with the majority of our 50cc class factory racers being first-year Senior class racers. But that said, we're expecting Cobra bikes to be up front and in podium contention from every major amateur national right down to the main events at local fairgrounds," said Cobra Moto President Sean Hilbert. "Adding to the successful race heritage and championship lineage is something we strive to achieve season after season with the American-made Cobra Moto bikes."
In the 51cc 7-8 Limited class Cobra Moto and its bike that revolutionized the class back in 1998 – the "King" CX50 – enjoyed one of the American company's best overall performances in recent years at Loretta's, capturing 80-percent of the top ten positions, including a podium spot from Noah Geyer (Virginia). And though Geyer graduated to the Cobra CX65 this year, the Senior class will feature a number of Cobra factory pilots who scored podium moto finishes at Loretta's last year – in their first year in the class. Those racers include: California's Jordan Torres, who placed 2nd in Moto 1 and Illinois' Krystian Janik, who place 2nd in Moto 2.
And graduating from the 50cc Senior class to the 65s are Wisconsin's Johnny Weber, who placed 3rd in Moto 3 last year at Loretta's, and Ross, who'd place 4th overall for Cobra Moto (with Janik 5th o/a) – earning Cobra Moto three of the top five overall spots in last year's 50cc Senior championships! They'll join longtime Cobra Moto-backed racers Brock Bennett (California) and Missouri's Brock Lassiter.
Presenting the 2015 Cobra Moto Factory Team!
Rider                                      Hometown                                         
Casey Cochran                        Arlington, Tenn.
Reed Cooper                           Cold Springs Harbor, NY
Parker Ross                             Elk Grove, Calif.
Mason Dixon                          Maynardville, Tenn.
Kace Evans                             Arthur City, Texas
Mason Tucker                         York, Pa.
Noah Gordon                          Marana, Ariz.
Krystian Janik                         Oak Lawn, Ill.
Cole Kish                                Newport, Mich.
Preston Masciangelo               Canada
Jordan Torres                          Watsonville, Calif.
Jett Burgess                             Australia
Noah Geyer                             Fredericksburg, Md.
Lucas Grounds                        Martinsville, Ind.
Codee Samples                       Midlothian, Texas
Gregory Stewart                     Elkhart, Ind.
Johnny Weber                         Kenosha, Wis.
Brock Bennett                         Bakersfield, Calif.
Brock Lassiter                         Asbury, Mo.
Up next for Cobra: Loretta's Regional Championships.
Photos courtesy of Lissa Marsolek
Cobra Moto, founded in 1993, produces the most successful line of competition mini cycles in the United States with more than 300 national titles in the last decade. Based out of Hillsdale, Mich., Cobra Moto's mission is to build premium products for the serious racer. For more information on Cobra products, please visit our website at www.cobramoto.com and like us on Cobra Nation on Facebook.
Aysling is a multi-faceted communications agency specializing in strategic media relations and promotions for the powersports and action sports communities. Dialed in with all forms of power and action sports, its participants, manufacturers and live event promoters, Aysling's Pat Schutte can be reached at patschutte@aysling.com