Made right here in the USA, Cobra Moto closes the books on a record sales year, adds more amateur MX nationals hardware to trophy case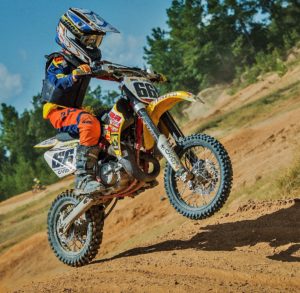 HILLSDALE, Mich., (Feb. 1, 2017) – From Daytona Beach to the Mini Os, with a class-sweeping effort at Loretta's in between, 2016 goes into the books as one of the best competition years in Cobra Moto history. This, along with a record sales year that speaks volumes on the popularity of competition motocross racing with today's youth, and the American-made competition mini cycle pulls the holeshot on what's going to be a spectacular 2017.
Kids on Cobras flat out dominated this past year at all the major amateur MX nationals, doing so by qualifying at the myriad of regional events following hours upon hours of track time at local motocross tracks and practice facilities across the nation. In total, Cobra Moto kids again swept the vast majority of 50cc Jr. and Sr. titles on the season. At the season-opening Daytona Ricky Carmichael Amateur Supercross Florida's Seth Dennis (4-6 Limited class), Nebraska's Diesel Thomas (4-8 class) and Pennsylvania's Luke Fauser (7-8 Limited class) would complete the 50 class sweep on their new CX50FWEs (Factory Works Edition).
Next up, at the granddaddy of all amateur MX national races – the 2016 Rocky Mountain ATV/MC Amateur Motocross Championships, aka "Loretta's" – Fauser, New Jersey's Jaden Palmer and Pennsylvania's Mason Tucker would sweep the premier 7-8 51cc class on their CX50FWEs, while Dennis, Illinois' Mikah Carpenter and Iowa's Miles McCarty would sweep the 51cc 4-6 Jr. class.
In all, Cobra Moto racers swept seven of the nine possible podium spots @ Loretta's, 13 of 15 possible top five spots and 22 of 30 top ten spots!
Michigan's Cole Kish had a great run at Loretta's on his Cobra, winning the first 65 7-9 Unlimited class moto in convincing fashion on his American-made CX65.
Out west Utah's Kade Johnson dominated the Monster Energy Mammoth (Calif.) Motocross on his CX50FWE, sweeping top honors in the 50cc class on both days at the long running event while Cobra Moto pilot Wyatt Thurman won the California Pro-Am MX State Championship.
Cobras continued to dominate on foreign soil, sweeping this year's Trans-Can Canadian MX National Championships both on 50s (Mason Tucker & Jesse James Shedden) and 65s (Casey Cochran). Cobra even won a Latin America championship with Jeremiah Oliveros Aguilar nailing that title in Ecuador.
Much of Cobra's success on the track can be attributed to design and engineering milestones achieved in 2016. The new Factory Works Edition 50s gave Cobra kids an advantage like no other bikes in the class, as did the newly re-engineered CX50P3.
"Thanks again to the legions of Cobra Moto kids and their families for believing in the Cobra Moto line of bikes – and working hard to generate all these amazing results in 2016," said Cobra Moto President Sean Hilbert. "Everyone at the Cobra Moto factory knows that their hard work on the weekdays, coupled with your hard work with practice, has a direct effect on race day results.
"We're all in this together, and together on the same team. Cobra Moto. American-made and race-proven time after time."
Cobra Moto would like to thank all of the companies it partners with to bring the finest minicycles in the world to market including Bel-Ray, SKF, CARD, Dunlop, Answer/Pro Taper and Roost MX.
Photo courtesy of: Cobra Moto
About Cobra Moto
Cobra Moto, founded in 1993, produces the most successful line of competition mini cycles in the United States with more than 300 national titles in the last decade. Based out of Hillsdale, Mich., Cobra Moto's mission is to build premium products for the serious racer. For more information on Cobra products, please visit our website at www.cobramotorcycle.com and like us on Cobra Nation on Facebook.
HPPR is a multi-faceted communications agency specializing in strategic media relations and promotions for the powersports and action sports communities. Dialed in with all forms of power and action sports, its participants, manufacturers and live event promoters, HPPR's Pat Schutte can be reached at pat@highprofilepr.com