America-made graphics for the American-made MX bikes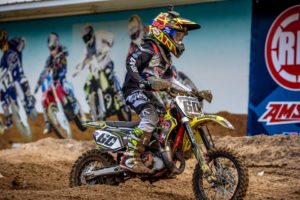 HILLSDALE, Mich., (Feb. 16, 2017) – Cobra Moto announced today a partnership with Roost MX that will have the popular Georgia-based company designing the graphics for Cobra Moto's 2017 Elite Team bikes, including the CX50 JR & SR models, the CX50FWE and CX65.
In addition, Roost will design and supply the Cobra Moto Elite Team members with apparel, along with designing the factory graphics for Cobra Moto's vehicles, pit shirts, jackets, hats and team wear.
"From their work with amateur motocross to creating the look for the Rock River Cycle Trader team on the supercross and outdoor national series tours, Roost MX has established itself as one of the go-to graphics companies in the MX industry," said Cobra Moto President Sean Hilbert. "We see them at all the major amateur motocross events and really liked the direction they're headed. So we're pleased to announce today that Roost MX is now the official graphics company of Cobra Moto."
Established in 1999 in Acworth, Ga., Roost MX's Chris and Christina Denny set out with a simple goal: to provide original, high quality and eye-catching graphics to motocross racers. Expanding over the years to apparel, truck and trailer wraps and dealership branding, Roost MX's partnership with Cobra Moto puts them at the forefront of amateur motocross with America's all-time winningest competition minicycles.
"Youth amateur racing has always been a big part of Roost MX and we are excited to work closely with the top manufacturer of minicycles," said Roost MX's Christina Denney. "Our goal is to elevate the look of the Cobra Moto brand and take it to the next level, both on the track and in the pits."
Cobra Moto would like to thank all of the companies it partners with to bring the finest minicycles in the world to market including Bel-Ray, SKF, CARD, Dunlop, Answer/Pro Taper and Roost MX.
Photo courtesy of: Cobra Moto
About Roost MX:
Over the past two decades Chris and Christina Denney built Roost MX into an industry leader, providing motocross graphics for riders of all levels. Roost MX is a full-service graphics company complete with in-house design, vehicle/trailer wrap capabilities, custom pit wear and dealership branding. Customer service and quick turn-around is top priority at the Roost MX Facility.  Visit us at www.RoostMX.net and follow Roost MX on Twitter (@roostmx), Instagram (@roostmx) and Facebook (www.facebook.com/roostmx).
About Cobra Moto
Cobra Moto, founded in 1993, produces the most successful line of competition mini cycles in the United States with more than 300 national titles in the last decade. Based out of Hillsdale, Mich., Cobra Moto's mission is to build premium products for the serious racer. For more information on Cobra products, please visit our website at www.cobramotorcycle.com and like us on Cobra Nation on Facebook.
HPPR is a multi-faceted communications agency specializing in strategic media relations and promotions for the powersports and action sports communities. Dialed in with all forms of power and action sports, its participants, manufacturers and live event promoters, HPPR's Pat Schutte can be reached at pat@highprofilepr.com