FOR IMMEDIATE RELEASE
Contact: Pat Schutte/HPPR
Top Cobra Moto racers converge in Okla. for Junior Moto X @ Lazy E Arena
Cobra Moto Factory Elite racers Mikah Carpenter, Casey Cochran, Drew Adams and Juju Beaumer will battle for 50 & 65cc titles
HILLSDALE, Mich., (May 11, 2017) – Oklahoma's famed Lazy E Arena will host the second annual Junior Moto X (JMX) this week/weekend and Cobra Moto will look to defend its 50cc championships – and possibly gain a 65cc championship – as four of USA's top amateur racers on the American-made Cobra Moto CX series 50cc & 65cc competition minicycles will be in the starting gate in Guthrie, May 12-13.
Cobra Moto Factory Elite racers Mikah Carpenter (Ill.), the defending Loretta Lynn's 51cc 4-6 class national runner-up, and past national champion Casey Cochran (Tenn.), along with national podium finishers Drew Adams (Tenn.) and Juju Beaumer (Ariz.) will lead a brigade of American-made Cobra Moto-mounted racers in pursuit of JMX titles and podium finishes.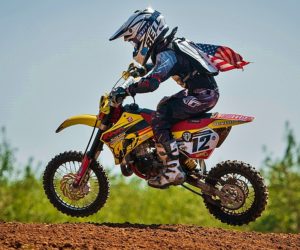 "We had our eye on the JMX last year, couple of our kids won titles, and we decided to put it on our factory race calendar for 2017," cited Cobra Moto President Sean Hilbert. "We're sending our Sprinter factory support van and a factory technician to provide service, parts and hospitality for all of the Cobra Moto kids racing the JMX.
"All signs point to a great weekend of racing down in Oklahoma for Cobra Moto kids."
In addition to factory support Cobra Moto is sponsoring the JMX Cobra Moto Strider Race. The Strider balance bikes for little kids will take to the track during intermission on Friday (8 p.m.).
JMX racing for Cobra Moto kids at Lazy E Arena begins on May 11th and runs through May 13th.
Cobra Moto would like to thank all of the companies it partners with to bring the finest minicycles in the world to market including Bel-Ray, SKF, CARD, Dunlop, Answer/Pro Taper and Roost MX.
Photo courtesy of: Cobra Moto
About Cobra Moto
Cobra Moto, founded in 1993, produces the most successful line of competition mini cycles in the United States with more than 300 national titles in the last decade. Based out of Hillsdale, Mich., Cobra Moto's mission is to build premium products for the serious racer. For more information on Cobra products, please visit our website at www.cobramotorcycle.com and like us on Cobra Nation on Facebook.
HPPR is a multi-faceted communications agency specializing in strategic media relations and promotions for the powersports and action sports communities. Dialed in with all forms of power and action sports, its participants, manufacturers and live event promoters, HPPR's Pat Schutte can be reached at pat@highprofilepr.com