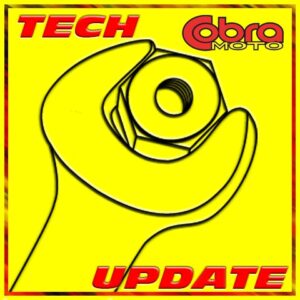 There is no question that Cobra's patented CFD (or 'slipper' as most call it) plays are large role in driveline durability. For years prior to its introduction, the sights broken transmission gears or a snapped chains were relatively commonplace at the race track. The device's operating principal is relatively simple: The CFD adds some 'give' to the driveline system. Unlike other types of motorcycle transmissions, when a centrifugal clutch (used on all 50cc motocrossers) is locked up, the entire powertrain…everything from the rear wheel to the piston…is also locked. Now imagine landing off a big jump with the throttle pinned. The engine is spinning at close to 15,000rpm, and then SLAM, the rear wheel comes to almost a dead stop as it hits the ground. With very little give in the system, this results in brutal wear and tear on many components such as the crankshaft, clutch basket, clutch shoes, transmission gears, transmission bearings, chain, sprockets, and rear wheel.
So how does the CFD work? It's very simple, actually. The primary gear, instead of being one solid part, has been replaced by a clutch that is set to disengage at a pre-determined torque level. This break-away torque is several times the maximum engine torque (so it doesn't slip when the engine is driving it), however, when it receives a high load in the other direction it spins providing a cushioning effect on many expensive engine and driveline components.
So what does this mean on and off the racetrack?
More time riding and less time doing maintenance!
Durability improvements in all driveline components.
Longer clutch shoe life.
Reduced weight and friction in the engine's final drive and more power to the ground.
The freedom to aggressively throttle away from heavy landings without having to worry about things breaking.
Overall reduced cost of ownership!
and Last but not Least…Improved rear suspension performance because the driveline can now absorb some of the impacts from hitting square edged obstacles rather than kicking the rear wheel.
So, all that's left is to make sure that owners can properly maintain their CFD, and that's why we created this video. Pay particular attention to this practice when you have a new bike or install a refresh kit as it takes a few rides for the system to take a set.