CX50 SR // The bike that should come with a flight suit…
Loretta Lynn's CX50 SR Championships
All US & International Championships
It's amazing how far these little bikes have come!

Ricky Carmichael
2018 Cobra CX50 SR Specifications
MSRP // $4,198 USD *Plus Shipping
Dry Weight // 91 lbs / 41 Kg
Engine // Cobra Venom 50cc 2-stroke
Bore x Stroke // 39mm x 41.7mm
Induction // Case Reed V-Force® Reed Valve 19mm Carb
Cooling // Water cooled Top-end and Case
Clutch // Cobra 5Gx Freewheeling 3-Shoe
Transmission // Single-speed auto
Exhaust // Tuned pipe and silencer
Lubrication // Mixture lubrication – Bel-Ray H1-R
Fuel Capacity // 1.1 Gallons / 4.2L
Frame // Twin Spar Oval HSLA
Wheelbase // 990mm
Seat Height // 680mm
Ground Clearance // 245mm
Front Brakes // CARD Hydraulic Disk (160mm)
Rear Brakes // CARD Hydraulic Disk (140mm)
Front Suspension // CARD Smart-Leg 32mm USD Fully Adjustable 210mm travel
Rear Suspension // CARD Fully Adjustable (High & Low Speed) 248mm travel
Wheel Front / Rear // Cobra 12″ Billet Hard Anodized/ Cobra 10″ Billet Hard Anodized
Tires Front / Rear // Dunlop 60/100-12 MX3SF / Dunlop 70/100-10 MX3S
2018 Cobra CX50 SR Highlights & Improvements
The 2018 Loretta Lynn's National Championship will mark the 25th anniversary of Cobra, and the King 50 was the bike that kicked it all off. For 2018, the base model King receives many of the improvements that the groundbreaking Factory Works King brought to market just a few months ago including:
NEW!

  CARD Front & Rear Brake Systems – The days of adapting bicycle brakes are over! All Cobra 50s now come equipped with purpose built and designed minicycle brakes that will help take performance to the next level. The all-new CARD front and rear brake systems have better feel, more stopping power, and are easier to maintain. Furthermore, the front brake comes standard with a break-away lever, and there is adjustability and a choice of levers to fit every size of hand!

NEW!  Lightweight Wheels – The evolution of our class-leading 'mag' wheels continues with reduced weight and all-new super lightweight and cool looking brake discs. To wrap up this awesome package, the engineering geeks at Cobra also replaced all steel wheel bearing spacers with hard anodized 7075-T6 aircraft aluminum units to save a few more grams of un-sprung and rotating mass. Lightweight, ZERO maintenance, and great looking. Lighter wheels mean less rotating and un-sprung mass, which translates into improved acceleration, handling, and flight control.

NEW!

  Dunlop Geomax MX3S Intermediate-Terrain Tires – The 3S has proven itself to be the ultimate minicycle tire over the past few years, so of course Cobra will offer it as standard equipment. No corners cut here!

Venom Series Engine  –  The 2018 King 50 is powered by Cobra's Venom Series 50cc powerplant. This thing rips! Cobra engineers designed a  'no-compromise' torque curve featuring massive amounts of low-end torque for launching off the gate and out of corners, this in addition to Cobra's classic over-rev that provides that '2nd gear' for wide open situations. This little beast offers more power, more torque, less weight and a smaller, lighter package.

Micro Handle Bars – Cobra is proud to offer Pro-Taper's innovative Micro Handlebars across our 50cc lineup. These bars will revolutionize the way that young riders control their motorcycles by offering a reduced diameter grip area that inspires confidence and reduced fatigue.

Bel-Ray Factory Fill – Cobra and Bel-Ray, two proud American companies with a long history in motocross, have teamed up to ensure that each Cobra model comes from the factory with the finest in lubricants and chemicals. This includes everything from wheel bearing grease, to brake fluid, to suspension fluid, to the oil on the air filter.

5Gx Freewheeling Clutch – Precision engagement, durable, freewheels for increased corner speed and easier starting.

Revolutionary MXT "Smart Leg" Front Fork – Cobra's exclusive 32mm USD CARD cartridge fork is the finest fork in minicycle racing! The Smart architecture simultaneously provides supple action over small bumps, and progressive control through the biggest of hits…A feature especially important for minicycles that run on tracks torn up by bikes twice their size! This fork also features fully adjustable rebound and compression damping and bottoming control adjustment not found on any other fork of any size!

Class-leading Twin Spar High-Strength Low-Alloy Oval Tube Frame – Super-strong, outstanding lateral strength with just the right amount of torsional rigidity.

Billet Triple Clamps with Adjustable Bar Mounts – Works level hardware on a junior scale bike!

Off-plane Tuned Expansion Chamber – Packages tight, features D-shaped header for minimal flow losses.
"Why Buy" a 2017 Cobra CX50 SR
Broad Torque Curve

Excellent low-end torque and over-rev!

No compromise power delivery

5Gx 3-Shoe Clutch (5thGeneration)

No plates to warp, Precision, consistent operation

Hits as hard at the end of a moto as it does on Lap 1. Freewheels for faster cornering and easier starting.

USD 32mm Front

Mechanical spring for consistent operation. 'Right Sized' for a small chassis. Fully adjustable cartridge design.

Inspires confidence over rough terrain

Piggyback Canister Rear Shock

Compression (high & low speed) Adjustment

Tunable for the rider. No-Fade performance throughout the race

REAL air filter

Air filter is mounted in airbox, not on top of air box. More surface area, More protection from dirt

Dirt or water that enters airbox cannot make its way into the engine. More power (especially in long motos and dusty off-road events)

Largest Air box in Class

Improved breathing. Large pre-carburetor volume greatly improves throttle response

One-Piece Aluminum Wheels

Stronger, Lighter Wheels

Reduced maintenance, improved acceleration and traction over rough terrain.

Billet, Wide Footprint Triple Clamp

Spreads the clamp load out over a larger area of the fork upper tube

Billet Chain Adjuster Blocks

Strongest in class

Never DNF from a slipping rear axle again!

Twin-Spar Frame

Best overall combination of torsional flexibility and lateral stiffness

Excellent straight-line stability and cornering feel – inspires confidence – reduces lap times

Cobra Friction Drive

Allows some slip between the crank and rear wheel

Longer driveline life (crank, transmission, clutch, chain) and improved drive through rough choppy terrain

Progressive Rate Rear Suspension

Linear rising rate without a link! Reduced weight, and friction

Supple over small bumps for good traction…Absorbs big hits for aggressive riding.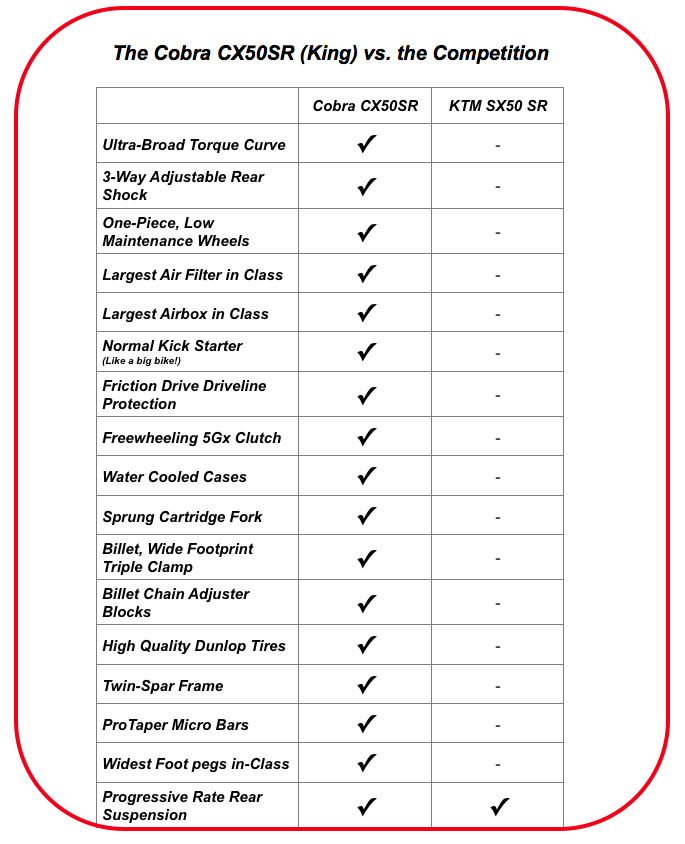 CX50SR "King Cobra"  History
Cobra's flagship model in 1994 was the King 50. It changed motocross forever by introducing the first true race-ready 50cc motocross bike. Twenty One years later, we're still innovating, and in the time since, the King 50 has kicked off the careers of many of the world's top racers including Davi Millsaps, Brock Tickle, Zach Osborne, Blake Baggett, Trey Canard, and Eli Tomac not to mention up-and-comers such as Adam Cianciarulo, Cooper Webb, and Thomas Covington.